Beauty of Namibia Wilderness of Botswana
SELF-DRIVE Z BOCIANEM
Prawdopodobnie najważniejszą decyzją, którą musisz podjąć podczas planowania swojej wyprawy życia, to wybór właściwego samochodu, od właściwych ludzi. Wybór ten zapewni Ci przeżycie niezapomnianych wrażeń z podróży po Namibii.
Bocian Safaris Car Hire jest członkiem stowarzyszenia CARAN, organizacji non-profit zrzeszającej wypożyczalnie samochodów na terenie Namibii. Bocian Safaris, zapewniając wysoki poziom usług, sprzętu i pojazdów, spełnia główny cel stowarzyszenia, jakim jest ochrona turystów. Wszystkie samochody używane w naszej flocie są marki Toyota Hilux. Samochody są wyposażone w sprzęt kempingowy, w którego skład wchodzą: namioty dachowe, lodówki oraz naczynia kuchenne potrzebne do przygotowywania i spożywania posiłków. Samochody Bociana to wyłącznie nowe i sprawne technicznie auta, które podlegają stałej kontroli w autoryzowanych stacjach obsługi.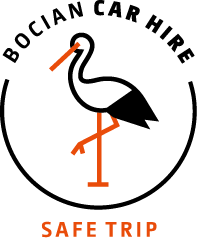 KORZYSTAJ Z WOLNOŚCI ODKRYWANIA NAMIBII SAMOCHODAMI BOCIANA. Odkrywaj dowody dramatycznych procesów geologicznych, które kształtowały fascynujące krajobrazy Afryki w czasach, kiedy była częścią Gondwany – superkontynentu. Zobacz ślady odciśnięte przez dinozaury 200 mln lat temu oraz prehistoryczne rysunki naskalne, czyste niebo pod Krzyżem Południa, feerię kolorów i osobliwości świata roślinnego na najstarszej pustyni świata Namib.
Odkryj majestatyczny kanion rzeki Fish i nieprzyjazne Wybrzeże Szkieletowe. Poczuj bliskość i obfitość dzikich zwierząt w Etoszy.
Poznaj różnorodność etniczną i kulturową mieszkańców Namibii.
Te i wiele innych osobliwości możesz zobaczyć podróżując samochodami Bociana.
Insurance Options:
| | |
| --- | --- |
| ZERO EXCESS  | Rate/Day 450.00 |
| 6 000.00 NAD  | Rate/Day 250.00 |
| 25 000.00 NAD | Rate/Day 150.00 |
| 50 000.00 NAD | Rate/Day 0.00 |